"Brainzy" Educational Games Suite for Education.com, PreK to 1st Grade Reading and Math
I was brought on to specifically help create (and provide the overall vision for) a Brand for Education.com that would compete in the Educational Gaming world with not only other educational competitors but look and feel the equal of entertainment games as well produced by animation/televisions/film studios. I created and designed all characters (Roly, Floyd, Tutu, Officer Ice Cream, Birdee, Cuz-Cuz, Muggo, and Penelope Pegacorn) and the world they live in (The Land of Knowhere) for the Children's Interactive Educational Website www.brainzy.com for Education.com (a task I had a month and a half to complete the initial pass while also helping to produce the first demo of games). Oversee the entire Art Production process by creating all rough designs for games, teaching moments (animated songs or cartoons illustrating a difficult concept), cutaways, etc and then working with an internal artist and a team of external artists (a pool of 10 animators, 2 Layout Artists, 2 Background painters, 15+ Illustrators) on extremely aggressive deadlines (while still making sure to keep the quality high). Also coordinate and assign all music production, working with composers and bands. I also fill in where needed in terms of animation, illustration, and quality control production, and take care of budgeting and contracts for all external art and audio professionals. Also spearheaded the addition of Puppet versions of the characters in order to expand the diversity of the look and fell of the games without bringing on the cost of 3D or Claymation alternatives, as well as assist Marketing with online and offline promotional materials, consultant on commercials (such as in the 2013 PBS Kids Summer Reading Program 30 second spot), etc. Initially hired under the title of Art Director, was promoted to Creative Director in March of 2014 in recognition of my efforts for the product.
Original Development Sketches, this was an extremely aggressive schedule, I had to work out the character set and the basics of the world + look and feel of the games suite in one month (March 2013).
Final Character Line-Up and Color Schemes
Detail of Final Designs of Roly and Floyd.
A more dimensional shading approach on Roly, I decided it would not be as appealing and be far too costly to make all animations follow this rendering approach.
Unused character design pass, I determined they were to limited by looking too young (may have worked for PreK, but K was a stretch and 1st Grade would have seemed almost like a Toddler product.
Detail Map of "The Land of Knowhere," sketch and concept by Mike Gray, final art by Andy Stattmiller.
Land of Knowhere exists in your own brain, sketch and final for World Bible.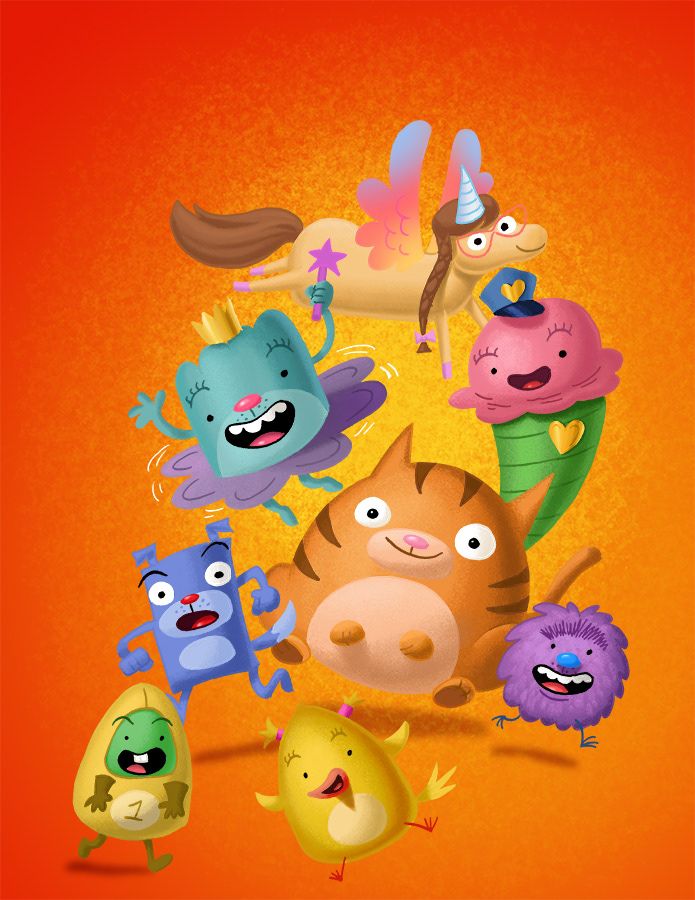 Brainzy Summer Fun Workbook Cover, Illustration by Mike Gray, Painting by David Eppen, 2013.
Unused Design for Land of Knowhere Map by Kenny Pittenger (Layout artist on most of the games)...this was when I was initially thinking of a Richard Scarry approach to the map and world (with the cutaway houses to see everything in them)